You've spent a lifetime networking and building strong connections, Heitmeyer Huddle is designed to help you leverage it!
Tracking your referrals has never been easier – you will receive your own unique dashboard to access any time and see the status of your referral network.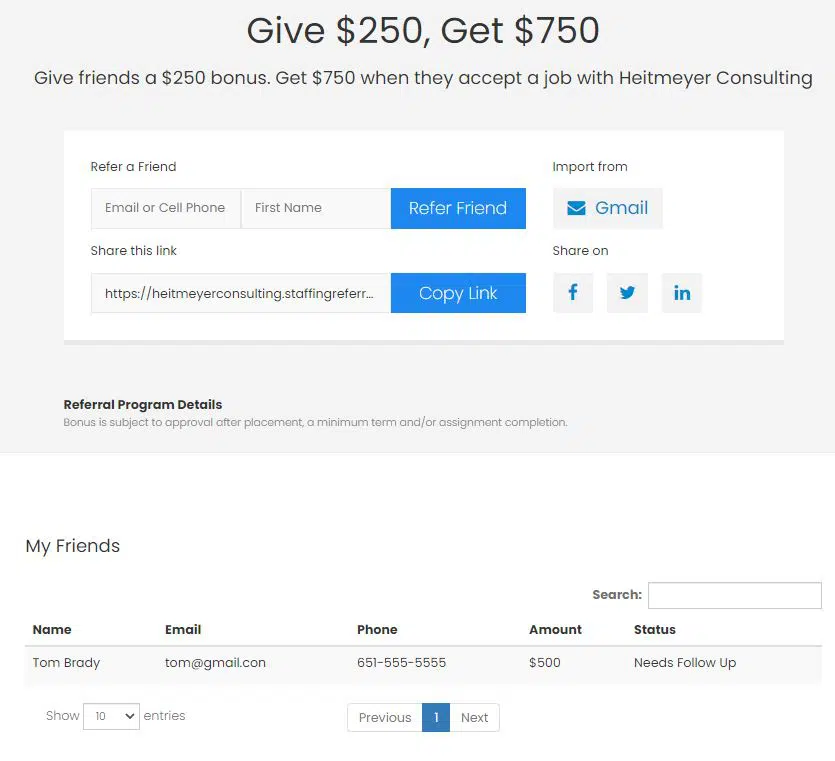 Terms & Conditions:
Referral bonuses are subject to approval based on the criteria set forth in the terms and conditions.
Referred candidates for contract to hire or direct hire positions must work for 90 days before the bonus is eligible to be paid.
Qualified referrals cannot come from a Corporation, the referred connection cannot be an active consultant already on Heitmeyer payroll, the referred connection cannot already be in Heitmeyer's network and have interviewed or been submitted to one of our clients within last 6 months, and client employees are not eligible for referral bonuses.
Payout terms: The assignment must be more than 90 days or a direct hire position. Referral payout is earned after 90 days of billing (or 90 days after the direct hire start date), and payment will be processed the last payroll of the month following when the referral is earned. For example, if the consultant's start date is 1/4/2021, the referral bonus is earned on 4/4/2021 and paid out the last week of May 2021.  If you are not an active Heitmeyer consultant, you will be required to complete a W9 for payment processing. A 1099-MISC will be sent at the end of the year for all referral payments received in the year unless you are a W2 employee.