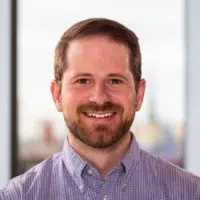 Joe Mikac
Account Manager
Joe Mikac joined Heitmeyer Consulting in April 2020. He worked as a consultant on 3 different projects and made a great impression on the Heitmeyer team, so, we transitioned him to an Account Manager/Recruiter role in August 2021.
Joe brings a positive attitude and an eagerness to learn. We appreciate his hard work and look forward to his continued growth! –Toby Boeckman, Director of Recruiting, Heitmeyer Consulting
"I am learning something new every day and the support from the entire team has been tremendous."
What advice do you have for prospective candidates?
Be confident in your abilities, recognize that there are always opportunities to learn something new and be receptive to feedback.
"I really enjoy helping our clients work on their ongoing needs and helping candidates advance their careers."